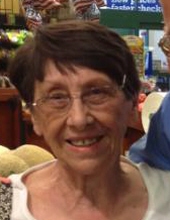 Obituary for Edythe S. Stenten
Edythe Shirley Stenten, 90, of Mariemont, formally of Sudbury, Ontario, Canada, passed away Saturday, January 5, 2019 at Mercy Jewish Hospital in Kenwood.  She was born August 20, 1928 in Sudbury, Ontario, Canada, daughter of the late Victor MacAlpine and Ida Victoria Hobson.  In addition to her parents, she was preceded in death by her sisters, Gladys Thompson and Helen Amedeo.   

Edythe loved gardening and bird watching.  She enjoyed Tai-Chi and water aerobics. She was also a member of MariElders. 

She is survived by her children, Susan (Neil) Gilman, David (Nancy Emmons) Stenten, Joanne (Bob Emrich) Stenten, Bill (Betty) Stenten and Collette (Jim) D'Wolf; 10 grandchildren; 3 great-grandchildren; sisters, Viola Hutton, June DiFonzo and Marjorie McGuinness and several nieces and nephews.  

Family and friends may visit from 10:00 – 11:30 AM, Thursday, January 10, 2019 at E.C. Nurre Funeral Home, 177 W. Main St., Amelia, OH.  Private graveside services will be held at Pierce Township Cemetery, Locust Corner.  

In lieu of flowers, family suggests memorial contributions be made to the COPD Foundation, 3300 Ponce De Leon Blvd, Miami, FL 33134. 

Please sign her online tribute wall at www.ecnurre.com.
Previous Events
Visitation
Amelia
177 W. Main Street
Amelia, OH 45102