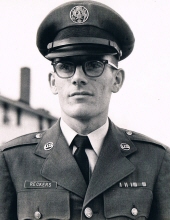 Obituary for George A. Reckers
George A. Reckers, 76, of Pierce Township, Ohio, passed away Friday March 1, 2019 at Anderson Mercy Hospital in Anderson Township. He was born November 26, 1942 in Covington, Kentucky, the son of the late Harry and Clara Reckers (nee Epkin). He is survived by Kathleen Reckers (nee Dowd), his loving wife of 46 years.George is the loving father of Christopher George Reckers.   

  He is survived by his sister-in-law Carol Reckers and Donna (Dowd) Otting. He is also survived by his brother-in-law Gary Otting, many nieces, nephews and cousins. George is preceded in death by his dear brother Carl Reckers.

  George is a graduate of the University of Massachusetts where he earned a Bachelor's Degree in Accounting. He was very proud of the nine years he served his country in the United States Air Force. George worked for ten years at Chrysler Financial Corporation and later worked as an owner and operator at Jackson Hewitt Tax Service. He always looked forward to the semi-annual cousin lunches, researching genealogy and watching baseball and football. George was an avid reader and you could find him napping in his chair everyday with his beloved dog KC, a Peekapoo, at his feet.

  Family and friends are invited to a Memorial Mass 10:30 AM Monday, March 11, 2019 at St. Rose Catholic Church, 2501 Riverside Drive, Cincinnati, Ohio 45202.
Previous Events
Memorial Mass
St. Rose Church
2501 Riverside Drive
Cincinnati, OH 45202